Enphase Energy Stock Up 19% Today – Time to Buy ENPH Stock?
The price of Enphase Energy stock is surging nearly 19% in pre-market stock trading action this morning following the release of the firm's financial results covering the fourth quarter of the 2021 fiscal year as the company beat analysts' estimates for both revenues and earnings.
For the three months ended on 31 December, Enphase reported revenues of $412.7 million resulting in a 55.9% jump compared to the same period a year ago. Analysts had forecasted sales of $399.6 million for the Fremont-based supplier of micro-inverters and battery systems.
The management cited strong demand for IQ? Microinverters as one of the reasons for this strong top-line performance with shipments of IQ Batteries increasing by 53% compared to the previous quarter.
Gross margins experienced a decline of 640 basis points at 39.6% while, on an adjusted basis, they stood flat at 40.2%. Challenging logistics amid the ongoing supply chain crisis were the primary cause of this deterioration in the firm's top-line profitability.
As a result, Enphase's GAAP operating income stood at $57.7 million resulting in a 33.4% decline compared to the same period a year ago. On an adjusted basis, operating profitability experienced a 34.9% jump.
GAAP earnings per share dropped 13 cents at $0.37 while adjusted EPS went up 43.1% at $0.73. This figure exceeded Wall Street's consensus estimate of $0.59 for the period and this appears to be the reason why ENPH stock is surging today.
For the first quarter of 2022, Enphase is expected to report revenues ranging between $420 and $440 million. This figure was slightly higher than the consensus estimate of $407.6 million for the period.
What could be expected from this renewable energy stock following this positive quarterly report? In this article, I'll be assessing the price action and fundamentals of ENPH stock to outline plausible scenarios for the future.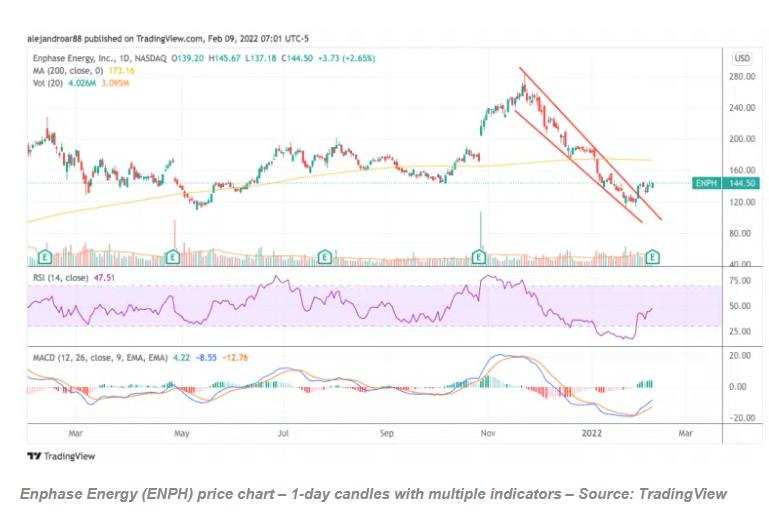 Enphase Energy Stock – Technical Analysis
The price of Enphase Energy stock has been on a sharp downtrend since November last year as
growth stocks
as a whole experienced significant weakness amid an expected deterioration in macro conditions.
So far in 2022, the price has declined 21% not including this morning's pre-market uptick. The yield of US 10-Treasury Notes is once again climbing above the 1.9% level this morning while it approached the 2% level for the first time since the pandemic started just yesterday.
Even though today's report was positive, the macro environment could keep weighing on the short-term performance of ENPH stock as higher Treasury yields typically result in higher risk premiums demanded for risky asset classes such as equities.
That said, this morning's jump is pushing the price near the 200-day simple moving average. Moving forward, this technical threshold will play a key role in determining the outlook for ENPH stock.
A break above this mark – currently standing at $173 – could signal a full-blown trend reversal. This view is favored by the recent break of the descending price channel shown in the chart. Moreover, in the past couple of days, trading volumes have exceeded the 10-day average indicating that buying interest is increasing.
Moreover, momentum indicators are pointing to a bullish outlook as well with the MACD standing above the signal line at the same time histogram readings are steadily increasing.
Moomoo is an app offered by Moomoo Techonologies Inc. that provides information about investments. Moomoo Technologies is not an investment adviser or a broker-dealer and it provides neither investment or financial advice nor securities trading services. All contents such as comments and links posted or shared by users of the community are opinions of the respective authors only and do not reflect the opinions, views, or positions of Moomoo Technologies, its affiliates, or any employees of Moomoo Technologies or its affiliates. You are advised to consult a qualified financial or tax advisor for your personal financial planning and tax situations.
3