Stocks & Markets Analysis
Views 3.3M
Contents 5437
Goldman says commodity supercycle could last a decade
Oil prices could reach $95 if Iran doesn't return to the market this year, while commodities overall are setting for
a supercycle that could potentially last a decade
, according to Goldman Sachs, which is
"extremely bullish"
on the whole commodity complex.
The best place to be right now, particularly given the Fed pivot, are commodities.
Oil market has potential to get tight over next 3-6 months.
Morever, according to Bloomberg, prices of commodities from oil to metals to food are rising to the point where they're starting to
trade in line with the bond market
as central banks attempt to tackle inflation.
The chart above shows the strengthening 40-day correlation between 10-year Treasury yields and the Bloomberg Commodity Index.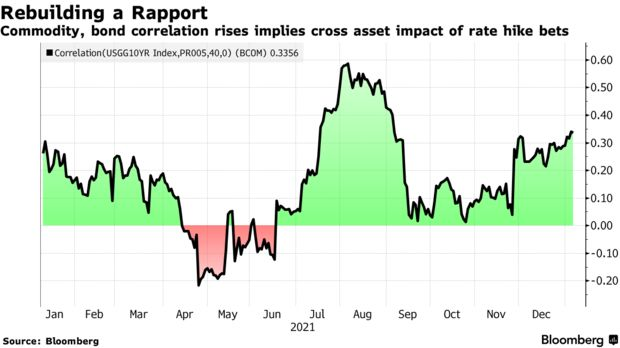 Source: Bloomberg
However, investors still need to be wary of the bear case for commodities relative to the bond market.
Real yields have been deeply negative. And that's offered a reason to seek returns in assets, namely commodities like oil. But eventually inflation will abate and real yields will catch up, at which point commodities are likely to lose some of their momentum as the market adjusts its appetite for risk.

Disclaimer: Community is offered by Moomoo Technologies Inc. and is for educational purposes only.
Read more
1
1
2
2
83
5