Most active stock options for Jan 6: Ford sold half as many Mustang EVs as gas
$Ford Motor
(
F.US
)
$
suggested on Wednesday the Mustang Mach-E made a significant stride against the iconic gas-powered Mustang in terms of sales volume as more customers in the U.S. adopt the greener option.
$Tesla
(
TSLA.US
)
$
CEO Elon Musk-owned SpaceX said on Wednesday it plans to launch another 49 Starlink satellites to low Earth orbit from the launch site at the John F. Kennedy Space Center in Florida.
A widely followed part of the Treasury curve is at risk of inverting by the third quarter as Federal Reserve policymakers undertake the process of raising interest rates, economists say.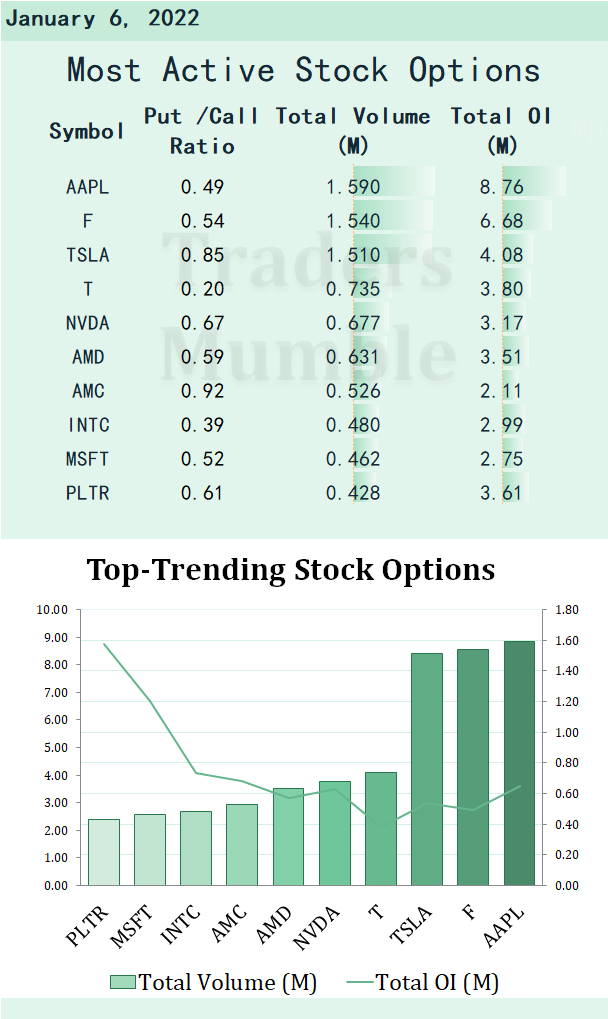 · The chart shows stocks with the
most option activities
of the previous trading day.
·
Put/Call ratio >0.7
means more the stock attract more bears than bulls.



Put/Call ratio<0.7
means the stock attract
more bulls than bears.
· Option volume indicates the shares of contracts traded for the day.
· Open interest indicates the total number of option contracts that are currently open – that means they are not
yet exercised or offset.



Quick option tutorial



Follow me to keep receiving the latest critical market movement and keep FOMO away.


Disclaimer: Moomoo Technologies Inc. is providing this content for information and educational use only.
Read more
13