4 top stock trades for Tuesday: AAPL, PYPL, TWTR, CSCO
We kicked off the 2022 trading season on Monday, but without a lot of fanfare. The markets opened higher but traded sideways despite a big jump in yields. With that in mind, let's look at a few top stock trades and keep an eye on yields to see how they impact tech stocks going forward.




Top stock trades for today No. 1: Apple

$Apple
(
AAPL.US
)
$
was finally able to make new all-time highs and become the first $3 trillion company. What a stellar accomplishment.



With the way it's moving now, we are still looking for a potential push up to the $188 to $194 area as the next upside target. That's where several key extension levels come into play from several important ranges.
If and when Apple gets there, we'll need to re-evaluate the stock. On the downside, I'd love to see the $180 to $182 area become support, but we may need a stronger breakout for that to happen.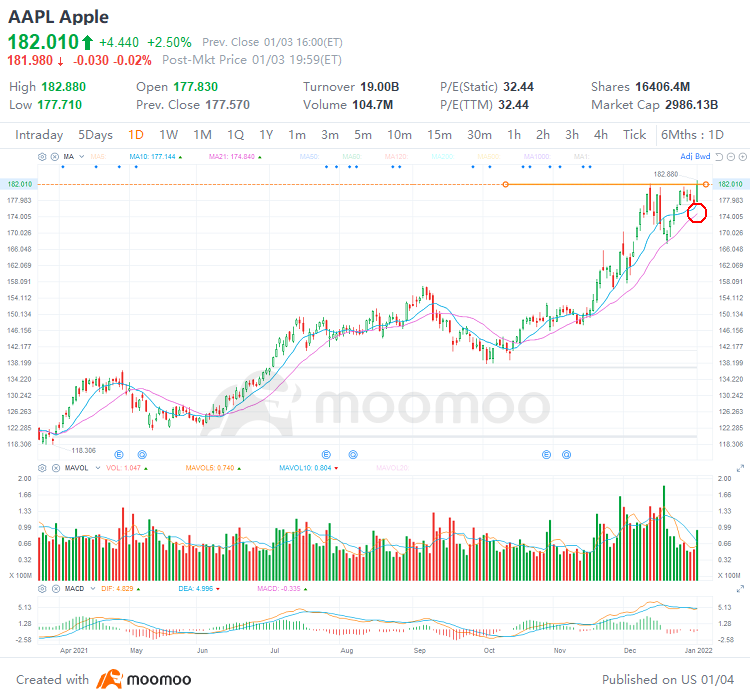 Until then, though, let's see that the 10-day and 21-day moving averages continue to act as support.

Top stock trades for today No. 2: PayPal

I took a closer look at
$PayPal
(
PYPL.US
)
$
on Monday morning, as we turn the monthly and yearly calendars over.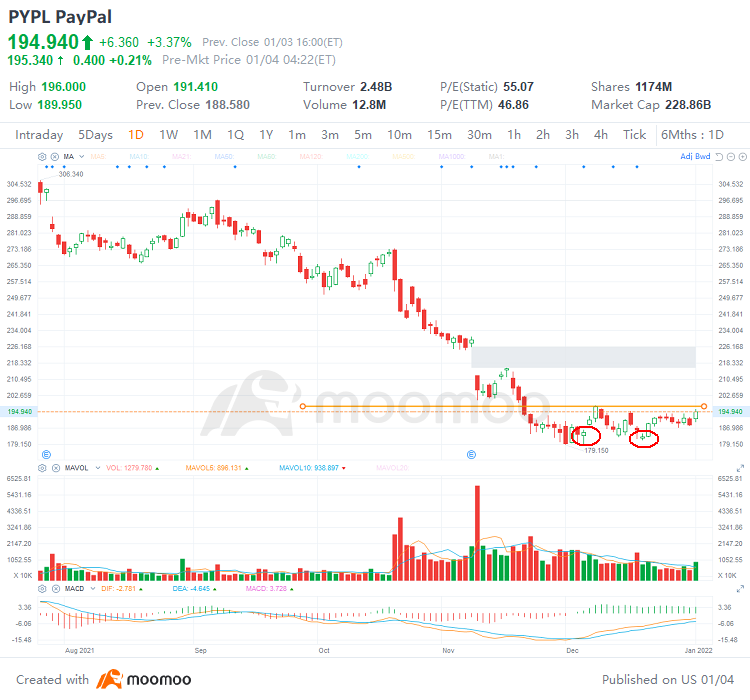 Specifically, I'm looking to see if PayPal can go monthly-up over $197.69, following a doji candle in December (showing some indecision) and after a slight
dip below the November low.
Was that the bottom? That's the hope.
A monthly-up rotation could be a quick opportunity to snag a nice move in the stock with limited risk. If it can't rotate over this level, keep an eye on the $179 to $180. A move below that zone could put $175 or lower on deck.

Top stock trades for today No. 3: Twitter

$Twitter (Delisted)
(
TWTR.US
)
$
is showing some concerning signs but isn't quite breaking down.
Shares are trapped below the $45 level and have now lost the 10-day and 21-day moving averages.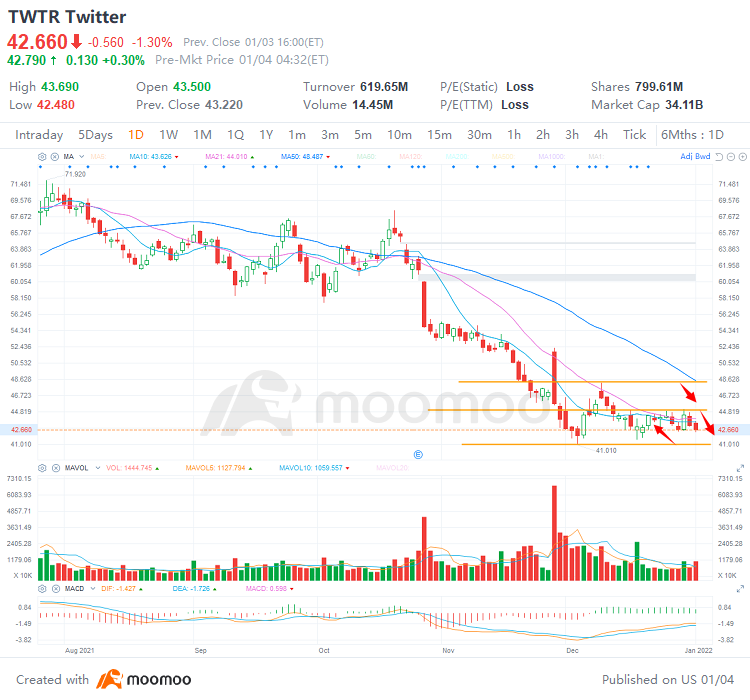 That's not great, especially with the market near all-time highs. On the flip side, uptrend support is holding…for now.
If this trend line breaks (blue line), then a dip down to $41 could be in the cards.
On the upside, however, a breakout over $45 puts the 50-day moving average and the December high near $48 in play.

Top trades for today No. 4: Cisco

$Cisco
(
CSCO.US
)
$
is another buy-the-dip name I have been watching. Shares were looking a little toppy last week and we've since gotten three-straight daily declines.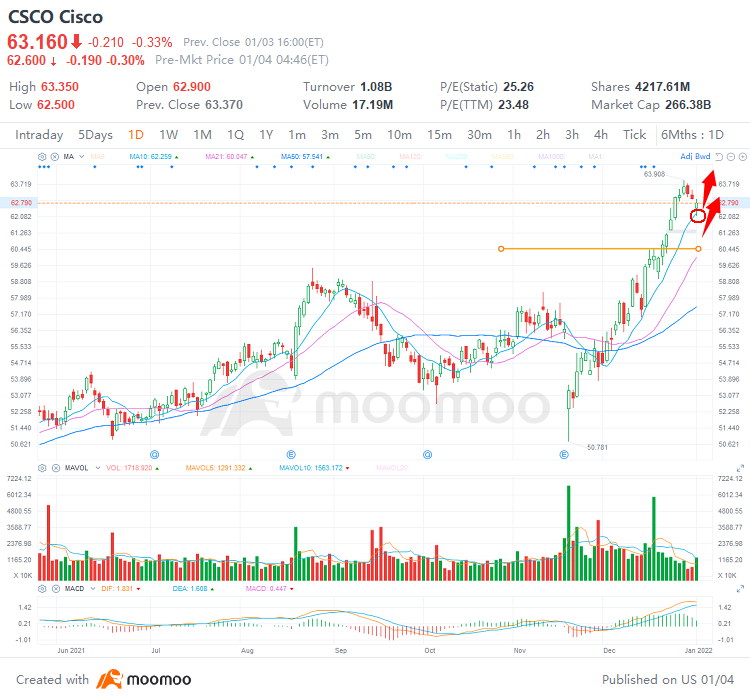 The stock had a major run-up from $41 in November to more than $64 last week. Now dipping to the 10-day moving average, Cisco stock is bouncing.
From here, let's see if Cisco can bounce back to the recent high near $64. Above $64 could put the 161.8% extension near $66 in play.
On the downside, though, be on the lookout for a break below last week's low, at $62.28. That could put the prior breakout area in play near $60.50, along with the 21-day moving average.
Disclaimer: Moomoo Technologies Inc. is providing this content for information and educational use only.
Read more
19