2021 Berkshire Hathaway Annual Shareholders Meeting
Views 11K
Contents 63
Moomoo, the exclusive title sponsor of 2021 Berkshire AGM live-streaming by Yahoo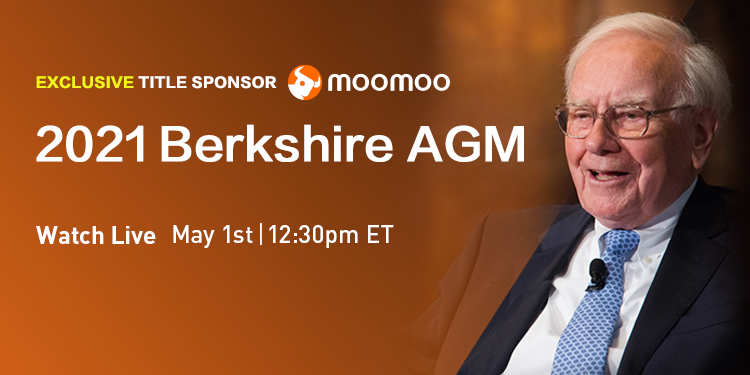 Omg, the legendary Warren Buffett!

Warren Edward Buffett is an American investor, business tycoon, philanthropist, and the chairman and CEO of Berkshire Hathaway. He is considered one of the most successful investors in the world and has a net worth of over US$100.6 billion as of April 2021, making him the world's seventh-wealthiest person.

 
He is also an icon of value investing, Buffett often gives a glimpse of his investing philosophy through letters that he writes to Berkshire Hathaways' shareholders.

 
What's Berkshire Hathaway's Annual Shareholders Meeting?
Berkshire Hathaway's Annual Shareholders Meeting is a defining event for the business community as millions of people from around the world tune in to hear insights during the "Woodstock for Capitalists."

Chairman and CEO Warren Buffett
Vice-Chairman Charlie Munger
Vice-Chairman of Non-Insurance Operations Greg Abel
Vice-Chairman of Insurance Operations Ajit Jain
When will this live stream start?

Yahoo Premeeting Show 12:30 – 1:30 PM EDT
Question and Answer Period 1:30 – 5:00 PM EDT
Formal Shareholder Meeting 5:00 – 5:30 PM EDT
Yahoo Postmeeting Show 5:30 – 6:00 PM EDT
How do I join this fantastic event?

Due to the ongoing pandemic, Berkshire Hathaway's Annual Shareholders Meeting will be held in Los Angeles and will be streamed worldwide.

 
Moomoo is the exclusive title sponsor of the live-streaming event. And Moomooers will be able to watch it on moomoo!
Starting next week, moomoo will gift reward points to moomooers who read and share opinions in our designated "venue"!

 



Make sure you stay tuned in for more details next week!
Disclaimer: Moomoo Technologies Inc. is providing this content for information and educational use only.
Read more
2
4
2
1
69
14