Withholding on Publicly Traded Partnerships under IRC Sec. 1446(f)
As a result of recent U.S. legislation under Internal Revenue Code Section 1446(f), gross proceeds from sales of and certain distributions from Publicly Traded Partnerships ("PTPs") will be subject to 10% withholding starting on January 1, 2023. Please note the following:
Withholding applies to PTPs held by non-U.S. tax residents (both individuals and entities).
Exemption from withholding may apply if a PTP releases a public statement called a "Qualified Notice" to indicate that the PTP meets the requirements of IRC Sec. 1446(f)-4(b)(3) to be exempt from withholding.
Options and other derivative transactions with a PTP as the underlying security are not subject to withholding. However, if the option or derivative is converted into a PTP interest, a subsequent sale of such PTP interest will be subject to withholding.
Withholding will be reported on the year-end Form 1042-S, Foreign Person's U.S. Source Income Subject to Withholding.
Additional information about IRC Sec. 1446(f) is available on the IRS website: https://www.irs.gov/individuals/international-taxpayers/partnership-withholding
This list identifies PTP securities which will be subject to withholding under IRC Sec. 1446(f) unless a "Qualified Notice" exemption is applicable at the time of the sale.
For example, if a PTP publishes a Qualified Notice before December 31, 2022, then the PTP will be exempt from withholding in early 2023 once IRC Sec. 1446(f) takes effect. However, the PTP will be required to periodically reissue Qualified Notices as the validity period of each Qualified Notice is only 92 days from its posting. Clients should refer to the PTP's website for information relating to Qualified Notices as this list identifies all PTPs irrespective of whether they have issued a Qualified Notice. Please note that this list of PTPs will be updated on a best efforts basis and is subject to change without notice.
ISIN Symbol Name
GB00B15Y0C52 AAAA AP ALTERNATIVE ASSETS LP
US01881G1067 AB ALLIANCEBERNSTEIN HOLDING LP
US01855A1016 AC ALLIANCE CAP MGMT LP
TC0001464281 ACE PRB CAPITAL RE LLC: 7.65% CUM "MIPS"
US00434L1098 - ACCESS MIDSTREAM PARTNERS LP
US0291691097 ACP AMERICAN REAL ESTATE PTNR-LP
US0291692087 ACP PR AMERICAN REAL ESTATE PRTNRS: ACP PR
US02364Y1010 AFREZ AMERICA FIRST REAL ESTATE INVESTMENT PARTNERS
US74347W3530 AGQ PROSHARES ULTRA SILVER
US74347W8414 - PROSHARES ULTRA SILVER
US04939R1086 - ATLAS ENERGY LP
US01861G1004 AHGP ALLIANCE HOLDINGS GP LP
US0268621028 AIA AMERICAN INSD MTG INVS
US02686F1030 AIJ AMERN INSD MTG INVS L P 86
US02686G1013 AIK AMERN INSD MTG INVS L P 88
US0093661058 AIRL AIRLEASE LTD
US02052T1097 ALDW ALON USA PARTNERS LP
US4642941078 ALT ISHARE DIVERSIFIED ALT TRUST
US03673L1035 - ANTERO MIDSTREAM PARTNERS LP
US02752P1003 - AMERICAN MIDSTREAM PARTNERS
US03350F1066 ANDX ANDEAVOR LOGISTICS LP
US0493921037 APL ATLAS PIPELINE PARTNERS LP
US0493923017 APL PRECL ATLAS PIPELINE PARTNERS, L.P. CUMV
US03957U1007 APLP ARCHROCK PARTNERS LP
US02520N1063 APO AMERICAN COMMUNITY PROPERTIE
US0376124055 APO PRA.O APOLLO MANAGEMENT LLC
US0376125045 APO PRB.O APOLLO MANAGEMENT LLC
US0376123065 - APOLLO GLOBAL MANAGEMENT - A
US0309751065 APU AMERIGAS PARTNERS-LP
US03879N1019 ARCX ARC LOGISTICS PARTNERS LP
US04014Y2000 ARES PRA. ARES MGMT LP PFD UNIT SER A
US04014Y1010 - ARES MANAGEMENT LP
US01877R1086 ARLP ALLIANCE RESOURCE PARTNERS
US04941A5074 ARNPQ ATLAS RESOURCE PARTNERS
US04941A1016 ARPJQ ATLAS RESOURCE PARTNERS LP
US04941A4085 ARPPQ ATLAS RESOURCE PARTNERS
US02364V2060 ATAX AMERICA FIRST MULTIFAMILY IN
US02364V1070 - AMERICA FIRST MULTIFAMILY IN
US04930A1043 ATLS ATLAS ENERGY LP
US04929Q1022 - ATLAS ENERGY GROUP LLC
US0493031001 ATN ATLAS ENERGY RESOURCES LLC
US0548071028 AZLCZ AZTEC LAND & CATTLE LTD
US05501X1000 AZURQ AZURE MIDSTREAM PARTNERS LP
US25490F1003 BAR DIREXION DAILY GOLD BULL 3X
US25490F2092 BARS DIREXION DAILY GOLD BEAR 3X
US1067761072 BBEPQ BREITBURN ENERGY PARTNERS LP
US1067761155 BBPPQ BREITBURN ENG PARTNERS LP CUM REDEE
BMG162341090 BBU BROOKFIELD BUSINESS PT-UNIT
US26923H2004 BDRY BREAKWAVE DRY BULK SHIPPING
BMG162581083 BEP BROOKFIELD RENEWABLE PARTNER
BMG162582313 BEP PRA BROOKFIELD RENEWABLE PAR
BMG162581083 BEP.UN BROOKFIELD RENEWABLE PARTNER
US1181671058 BGH BUCKEYE GP HOLDINGS LP
US092ESC0377 BGIO.ESC ESC BGIO LIQUIDATION TRUST
US0925ESC094 BHL.ESC BLACKROCK DEFINED OPPORTUNIT - ESCROW
BMG162521014 BIP BROOKFIELD INFRASTRUCTURE PA
USG162522670 BIP PRA BROOKFIELD INFRASTRUCTURE PARTNERS LP
BMG162522756 BIP PRB BROOKFIELD INFRASTRUCTUR
US0917491013 BITW BITWISE 10 CRYPTO INDEX FUND
US09625U1097 BKEP BLUEKNIGHT ENERGY PARTNERS L
US81662W1080 - SEMGROUP ENERGY PARTNERS LP
US09625U2087 BKEPP BLUEKNIGHT ENERGY PARTNERS - SERIES A PREF UNIT
US91167Q1004 BNO UNITED STATES BRENT OIL FUND
US86324B1035 BNPC STREAM S&P DYN GLOBAL COMM
US74347Y8701 BOIL PROSHARES ULTRA BLOOMBERG NA
US74347W7754 - PROSHARES ULT DJ-UBS NAT GAS
US74347W1229 - PROSHARES ULTRA BLOOMBERG NA
US74347Y7067 - PROSHARES ULTRA BLOOMBERG NA
US74347W2961 - PROSHARES ULTRA BLOOMBERG NA
US1182301010 BPL BUCKEYE PARTNERS LP
US0556EL1098 BPMP BP MIDSTREAM PARTNERS LP
BMG162491077 BPY BROOKFIELD PROPERTY PARTNERS
BMG1624R1079 BPYP.PR.A NEW LP PREFERRED UNITS CAD
BMG1624R1079 BPYPM NEW LP PREFERRED UNITS CAD
BMG162491648 BPYPN BROOKFIELD PROPERTY PART
BMG162491564 BPYPO BROOKFIELD PROPERTY PART
BMG162491499 BPYPP BROOKFIELD PROPERTY PART
US09225M1018 BSM BLACK STONE MINERALS LP
US0966271043 BWP BOARDWALK PIPELINE PARTNERS
US09253U1088 - BLACKSTONE GROUP LP/THE
US20588V3078 CAG PRB CONAGRA CAP L C: CAG PRB
US88166A4094 CANE TEUCRIUM SUGAR FUND
US22758A1051 CAPL CROSSAMERICA PARTNERS LP
GG00B1WR8K11 CCAP CONVERSUS CAPITAL
US12637A1034 CCLP CSI COMPRESSCO LP
US20855T1007 CCR CONSOL COAL RESOURCES LP
US2327511075 - CYPRESS ENVIRONMENTAL PARTNE
US21038E1010 - CONSTELLATION ENERGY PARTNER
US2263442087 CEQP CRESTWOOD EQUITY PARTNERS LP
US2263443077 CEQP PR CRESTWOOD EQUITY PARTNER
US2263441097 - CRESTWOOD EQUITY PARTNERS LP
US67074P1049 CFD NUVEEN DIVERSIFIED COMMODITY
US14309L1026 - CARLYLE GROUP INC/THE
US1609081096 CHC CHARTERMAC
US16524K1088 - CHESAPEAKE MIDSTREAM PARTNER
US1651851099 CHKR CHESAPEAKE GRANITE WASH TRUS
US12547R1059 CIFC CIFC LLC
US1314761032 CLMT CALUMET SPECIALTY PRODUCTS
US15188T1088 - CENTERLINE HOLDING CO
US74347W6764 CMD PROSHARES ULTRASHORT BLOOMBE
US74347W2052 - PROSHRE U/S DJ-AIG COMMODITY
US45032K1025 CMDT ISHARES COMMODITY OPTIMIZED
US2263781070 CMLP CRESTWOOD MIDSTREAM PARTNERS
US2263721001 - CRESTWOOD MIDSTREAM PARTNERS
US2068121092 - CONE MIDSTREAM PARTNERS LP
US2189161043 CNPP CORNERSTONE PROPANE PARTNERS
US12592V1008 - CNX COAL RESOURCES LP
US12654A1016 CNXM CNX MIDSTREAM PARTNERS LP
US88166A1025 CORN TEUCRIUM CORN FUND
US9117181043 CPER UNITED STATES COPPER INDEX
US2172021006 CPNO COPANO ENERGY LLC-UNITS
US1982811077 CPPL COLUMBIA PIPELINE PARTNERS L
US16411Q1013 CQP CHENIERE ENERGY PARTNERS LP
US74347W4603 CROC PROSHARES ULTRASHORT AUD
US2284391057 CRPPE CROWN PAC PARTNERS L P
US88166A3005 CRUD TEUCRIUM CRUDE OIL FUND
US1272072075 CSD PRA CADBURY SCHWEPPES DEL L P
US6707311089 CTF NUVEEN LONG/SHORT COMMODITY
US12663P1075 CVRR CVR REFINING LP
US2128491030 CWPS CONWEST PARTNERSHIP LP-UNITS
US46140H1068 DBA INVESCO DB AGRICULTURE FUND
US73936B4086 - POWERSHARES DB AGRICULTURE F
US46140H7008 DBB INVESCO DB BASE METALS FUND
US73936B7055 - POWERSHARES DB BASE METALS F
US46138B1035 DBC INVESCO DB COMMODITY INDEX T
US73935S1050 - POWERSHARES DB COMMODITY IND
US46140H3049 DBE INVESCO DB ENERGY FUND
US73936B1017 - POWERSHARES DB ENERGY FUND
US46140H4039 DBO INVESCO DB OIL FUND
US73936B5075 - POWERSHARES DB OIL FUND
US46140H5028 DBP INVESCO DB PRECIOUS METALS F
US73936B2007 - POWERSHARES DB PREC METALS F
US46140H2058 DBS INVESCO DB SILVER FUND
US73936B3096 - POWERSHARES DB SILVER FUND
US46139B1026 DBV INVESCO DB G10 CURRENCY HARV
US73935Y1029 - POWERSHARES DB G10 CURR HARV
US23311P1003 DCP DCP MIDSTREAM L.P.
US23311P2092 DCP PRB DCP MIDSTREAM LP
US23311P3082 DCP PRC DCP 7.95 PERP PFD - DCP MIDSTREAM LP
US55610N1054 DCR MACROSHARES OIL DOWN TRADEABLE
US18383H1014 - CLAYMORE MACROSHARES OIL DOW
US88166A8053 DEFI HASHDEX BITCOIN FUTURES ETF
US2650261041 DEP DUNCAN ENERGY PARTNERS LP
US46140H6018 DGL INVESCO DB GOLD FUND
US73936B6065 - POWERSHARES DB GOLD FUND
US24664T1034 DKL DELEK LOGISTICS PARTNERS LP
US2574541080 - DOMINION ENERGY MIDSTREAM PA
US25820R1059 DMLP DORCHESTER MINERALS LP
US55610X1037 DMM MACROSHARES MAJ MET HOU DOWN
US9126132052 DNO UNITED STATES SHORT OIL FUND
US55610T2015 DOY MACROSHARES USD 100 OIL DOWN
US55610T1025 - MACROSHARES $100 OIL DOWN
US2662242039 DQ PRA DUQUESNE CAP L P
US29357D2080 ECSPQ ENRON CAPITAL RESOURCES 9% CUM RED PFD
US26827L1098 ECTM ECA MARCELLUS TRUST I
TC0001373946 ECTPQ ENRON CAP LLC
US29250R1068 EEP ENBRIDGE ENERGY PARTNERS LP
US28252B8046 EFSH 1847 HOLDINGS LLC
US28252B3096 - 1847 HOLDINGS LLC
US29102H1086 EMESQ EMERGE ENERGY SERVICES LP
US2924801002 ENBL ENABLE MIDSTREAM PARTNERS LP
US1534231089 ENGY CENTRAL ENERGY PARTNERS LP
US29336U1079 ENLK ENLINK MIDSTREAM PARTNERS LP
US29257A1060 ENP ENCORE ENERGY PARTNERS-LP
US2837021086 EPB EL PASO PIPELINE PARTNERS LP
US2937921078 EPD ENTERPRISE PRODUCTS PARTNERS
US2937161063 EPE ENTERPRISE GP HOLDINGS LP
US26885J1034 EQGP EQGP HOLDINGS LP
US26885B1008 EQM EQM MIDSTREAM PARTNERS LP
US26985R1041 EROC EAGLE ROCK ENERGY PARTNERS
US2921021000 ESBA EMPIRE STATE REALTY OP LP-ES
US29273V1008 ET ENERGY TRANSFER LP
US29273V4077 ET PRC ENERGY TRANSFER LP
US29273V5066 ET PRD ENERGY TRANSFER LP 7.625% PERP PFD
US29273V6056 ET PRE ENERGY TRANSFER LP 7.6% PERP PFD U
US29278N1037 ETP ENERGY TRANSFER OPERATING LP
US29278N3017 ETP PRC ENERGY TRANSFER PARTNERS
US29278N4007 ETP PRD ENERGY TRANSFER PARTNERS
US29278N5095 ETP PRE ENERGY TRANSFER OPERATNG
US29273R1095 - ENERGY TRANSFER PARTNERS LP
US74347W7424 - PROSHARES SHORT EURO ETF
US74347W8828 EUO PROSHARES ULTRASHORT EURO
US29414J1079 - ENVIVA PARTNERS LP
US26926V1070 EVEPQ EV ENERGY PARTNERS LP
US30225N1054 EXLP ARCHROCK PARTNERS LP
US34552U1043 FELPQ FORESIGHT ENERGY LP
US3152932097 FGPR FERRELLGAS PARTNERS-LP
US3152933087 FGPRB FERRELLGAS PARTNERS LP-B
US3152931008 FGPRQ FERRELLGAS PARTNERS-LP
US34958B1061 - FORTRESS INVESTMENT GRP-CL A
US57118V1008 - MARLIN MIDSTREAM PARTNERS LP
US2921023089 FISK EMPIRE STATE REALTY OP -S250
US30304P1049 FOL FACTORSHARES 2X: OIL-S&P500
US3030471045 FSA FACTORSHARES 2X: TBD-S&P500
US3030461061 FSE FACTORSHARES 2X: S&P500-TBD
US30304T1060 FSG FACTORSHARES 2X: GOLD-S&P500
US3030481028 FSU FACTORSHARES 2X: S&P500-USD
US34960P1012 FTAI FORTRESS TRANSPORTATION-CL A
US34960P4081 FTAIN FORTRESS TRANS & INFRAST
US34960P3091 FTAIO FORTRESS TRANS & INFRAST
US34960P2002 FTAIP FORTRESS TRANS & INFRAST
US1501851067 FUN CEDAR FAIR -LP
US976ESC3018 FUR.ESC WINTHROP REALTY TRUST - ESCROW
US74347W5360 FUTS PROSHARES MANAGED FUTURES ST
US37959R1032 GBLI GLOBAL INDEMNITY GROUP LLC-A
US3952581060 - GREENHAVEN CONTINUOUS CMDTY
US97718W1080 GCC.USD WISDOMTREE CONTINUOUS COMMOD
US74347W4942 GDAY PROSHARES ULT AUSTRALIAN DOL
US38349K1051 GDVTZ GOULD INVESTORS LP
US3719271047 GEL GENESIS ENERGY L.P.
US69341H1059 GFWQZ PLM EQUIPMENT GROWTH FD III
US74347W3951 GLL PROSHARES ULTRASHORT GOLD
US74347W7002 - PROSHARES ULTRASHORT GOLD
US74347W7184 - PROSHARES ULTRASHORT GOLD
US37946R1095 GLP GLOBAL PARTNERS LP
US37946R2085 GLP PRA GLOBAL PARTNERS LP
US37946R3075 GLP PRB GLOBAL PARTNERS LP
US3932211069 GPP GREEN PLAINS PARTNERS LP
US3860872098 GRM PRA GRAND MET DEL L P
CA3874371147 GRP U GRANITE REAL ESTATE INVESTME
CA3874371147 GRT.UN GRANITE REAL ESTATE INVESTME
US46428R1077 GSG ISHARES S&P GSCI COMMODITY I
US20467A1016 GSJK COMPRESSCO PARTNERS LP
US40274U1088 GTM GULFTERRA ENERGY PARTNERS LP
US36761Q1058 GWYGU GATEWAY GARAGE PARTNERS LLC
US4038291047 GYRO GYRODYNE LLC
US4283371098 HCRSQ HI-CRUSH INC
US4357631070 HEP HOLLY ENERGY PARTNERS LP
US4281041032 - HESS MIDSTREAM PARTNERS LP
US4312911039 HLND HILAND PARTNERS LP
CA0266951064 HOT.UN AMERICAN HOTEL INCOME PROPER
US4269181081 HPG HERITAGE PROPANE PRTNRS LP
US43129M1071 HPGP HILAND HOLDINGS GP LP
BMG4285W1001 HRBGF HARBOR GLOBAL COMPANY LTD
US40636T2033 HRY HALLWOOD RLTY PARTNERS L P
US4223571039 HTLLQ HEARTLAND PARTNERS LP-A
US0293162055 - AMERICAN RESTAURANT PRTNR LP
US59140L1008 IDIV METAURUS US EQUITY CUMULATIV
US4511001012 IEP ICAHN ENTERPRISES LP
US4511002002 IEP PRCL ICAHN ENTERPRISES LP
US4511001194 IEPRR ICAHN ENTERPRISES LP-RIGHT
US4608852053 IGLPA INTERSTATE GEN L P
US46643C1099 JPEP JP ENERGY PARTNERS LP
US48248A3068 KFN KKR FINANCIAL HOLDINGS LLC
US48248A6038 KFN PRCL KKR FINANCIAL HOLDINGS
US74839G1067 - QUICKSILVER GAS SERVICES LP
GB00B13BNQ35 KKR KKR & CO (GUERNSEY) LP
US48248M2017 KKR PRA.O KKR & CO LP
US48248M3007 KKR PRB.O KKR 6 1/2 12/31/49 PFD
US4945501066 KMP KINDER MORGAN ENERGY PRTNRS
US74347Y8131 KOLD PROSHARES ULTRASHORT BLOOMBE
US74347Y8214 - PROSHARES ULTRASHORT BLOOMBE
US74347W3878 - PROSHARES ULTRASHORT BLOOMBE
US74347W7671 - PROSHARES ULTSHRT DJ-UBS NAT
GB00B13BNQ35 KPEQF KKR & CO
US4841691078 KPP KANEB PIPE LINE PARTNERS L P
US4841731098 KSL KANEB SERVICES LLC
US48268Y1010 KSP K-SEA TRANSPORTATION PARTNER
US22676R1150 KWH.UN CRIUS ENERGY TRUST
US5053461068 LAACZ LAACO LTD-UNITS OF LTD PRTNS
BMG540501027 LAZ LAZARD LTD-CL A
US5248141005 - LEHIGH GAS PARTNERS LP
US5327711025 - LIN MEDIA LLC - A
US5360201009 LINEQ LINN ENERGY LLC-UNITS
SGXC28500103 LIW EAGLE HOSPITALITY TRUST
US51508J1088 LMRK LANDMARK INFRASTRUCTURE PART
US51508J4058 LMRKN LANDMARK INFRASTRUCTURE PARTNERS LP
US51508J3068 LMRKO LANDMARK INFRASTRUCTURE
US51508J2078 LMRKP LANDMARK INFRASTRUCTURE
US5357631069 LNKE LINK ENERGY LLC
US50214A1043 LRE LRR ENERGY LP
US59560V2088 MCEP MID-CON ENERGY PARTNERS LP
US59560V1098 - MID-CON ENERGY PARTNERS LP
US6050342061 ME PRA MISSION CAP L P
US6050343051 ME PRB MISSION CAP L P: ME PRB
US5860481002 MEMPQ MEMORIAL PRODUCTION PARTNERS
US59564N1037 MEP MIDCOAST ENERGY PARTNERS LP
US55907R1086 MGG MAGELLAN MIDSTREAM HOLDINGS
US55608B1052 MIC.USD MACQUARIE INFRASTRUCTURE HOL
US62624B1017 - MUNICIPAL MORTGAGE & EQUITY
US5733311055 MMLP MARTIN MIDSTREAM PARTNERS LP
US5590801065 MMP MAGELLAN MIDSTREAM PARTNERS
US55336V1008 MPLX MPLX LP
US55271M2061 MUK PRA MEPC INTL CAP L P
US5707591005 MWE MARKWEST ENERGY PARTNERS LP
US55406N1037 MYTH MYT HLDG LLC BE+
US88166A2015 NAGS TEUCRIUM NATURAL GAS FUND
US65506L1052 NBLX NOBLE MIDSTREAM PARTNERS LP
US6442061049 NEN NEW ENGLAND REALTY ASSOC-LP
US62913M1071 NGL NGL ENERGY PARTNERS LP
US62913M2061 NGL PRB NGL 9 PERP PFD
US62913M3051 NGL PRC NGL ENERGY PARTNERS LP
US87611X1054 NGLS TARGA RESOURCES PARTNERS LP
US87611X2045 NGLS PRA TARGA RESOURCES PARTNERS
US6514261089 NHL NEWHALL LAND & FARMING CO
US6546781013 NKA NISKA GAS STORAGE PARTNERS-U
US6294221063 NLP NTS REALTY HOLDINGS LP
US55307U1079 - ML MACADAMIA ORCHARDS LP-UT
US41988L2025 NNUTU HAWAIIAN MACADAMIA NUT ORCHA
US78028T1007 - ROYAL HAWAIIAN ORCHARDS LP
US45671U1060 - INERGY MIDSTREAM LP
US45661Q1076 NRGP INERGY HOLDINGS LP
US4566151035 - INERGY LP
US63900P6088 NRP NATURAL RESOURCE PARTNERS LP
US63900P1030 - NATURAL RESOURCE PARTNERS LP
US67058H1023 NS NUSTAR ENERGY LP
US67058H2013 NS PRA NSUS 8 1/2 12/31/49
US67058H3003 NS PRB NSUS 7 5/8 PERP PFD
US67058H4092 NS PRC NUSTAR ENERGY LP
US67059L1026 - NUSTAR GP HOLDINGS LLC
US64881E1091 NSLPQ NEW SOURCE ENERGY PARTNERS L
US63900P5098 NSP NATURAL RESOURCE PARTNERS LP
US63900P4000 NSP NATURAL RESOURCE PARTNERS LP -PARTNERSHIP UNITS
US6658261036 NTI NORTHERN TIER ENERGY LP
US64881E3071 NUSPQ NEW SOURCE ENG PARTNERS LP 11%SR A
US64ESC19977 NYRT.ESC NEW YORK REIT INC - ESCROW
US6740012017 OAK OAKTREE CAPITAL GROUP LLC
US6740013007 OAK PRA OAKTREE CAPITAL GRP LLC
US6740014096 OAK PRB OAKTREE CAPITAL GRP LLC
US67091N1081 OCIP OCI PARTNERS LP
US67081B1061 - OCI RESOURCES LP
SGXC39411175 ODBU UNITED HAMPSHIRE US REIT
US2921022099 OGCP EMPIRE STATE REALTY OP-S60
US74347W2136 - PROSHARES ULTRAPRO 3X SHORT
US74347Y8057 - PROSHARES ULTRAPRO 3X SHORT
US6780491071 OILT OILTANKING PARTNERS LP
US74347W2219 - PROSHARES ULTRAPRO 3X CRUDE
US6740011027 OKCMZ OAKTREE CAP GROUP-UTS CL A
US68268N1037 OKS ONEOK PARTNERS LP
US67420T2069 OMP OASIS MIDSTREAM PARTNERS LP
US6710281089 OSP OSG AMERICA LP
US6918071019 OXF OXFORD RESOURCE PARTNERS LP
SGXC75818630 OXMU PRIME US REIT
US0806941029 OZ BELPOINTE PREP LLC
US67551U1051 - OCH-ZIFF CAPITAL MANAGEMEN-A
US7265031051 PAA PLAINS ALL AMER PIPELINE LP
US69318Q1040 PBFX PBF LOGISTICS LP
US71672U1016 PDH PETROLOGISTICS LP
US80007A1025 - SANDRIDGE PERMIAN TRUST
US55406N2027 PFDM PFD MYT HLDG CO BE+
CA7069025095 - PENGROWTH ENERGY TRUST-A
US7192171012 PLP PHOSPHATE RESOURCE PRTNRS L.P.
US6931391071 PNG PAA NATURAL GAS STORAGE LP
US7328571077 POPE POPE RESOURCES
US69422R1059 PPX PACIFIC ENERGY PARTNERS LP
US72388B1061 PSE PIONEER SOUTHWEST ENERGY PAR
US7185492078 PSXP PHILLIPS 66 PARTNERS LP
US7093111042 PTXP PENNTEX MIDSTREAM PARTNERS L
US70788P1057 - PENN VIRGINIA GP HOLDINGS LP
US6936651016 PVR PVR PARTNERS LP
US7078841027 - PENN VIRGINIA RESOURCE PARTN
US74836B2097 - QUEST ENERGY PARTNERS LP
US74735R1150 QEPM QEP MIDSTREAM PARTNERS LP
US74734R1086 QRE QR ENERGY LP
US76090H1032 QSP.U RESTAURANT BRANDS EXCHANGE UNITS
CA76090H1038 QSP.UN RESTAURANT BRANDS-EXCH UNITS
US75885Y1073 RGP REGENCY ENERGY PARTNERS LP
US76218Y1038 - RHINO RESOURCE PARTNERS LP
US76218Y2028 - RHINO RESOURCE PARTNERS LP
US26923H1014 RISE SIT RISING RATE ETF
US7628191006 RMP RICE MIDSTREAM PARTNERS LP
US7601131003 RNF RENTECH NITROGEN PARTNERS LP
US7771491054 RRMS ROSE ROCK MIDSTREAM LP
CA76090H1038 RSTRF RESTAURANT BRANDS-EXCH UNITS
GG00BKTRRM22 RTW RTW VENTURE FUND LTD
CA74624AUSD4 RUF.U PURE MULTI-FAMILY REIT LP
CA74624A1084 RUF.UN PURE MULTI-FAMILY REIT LP
CA74624A1084 RUF.UN PURE MULTI-FAMILY REIT LP
US7672711097 - RIO VISTA ENERGY PARTNERS LP
US74347Y7976 SCO PROSHARES ULTRASHORT BLOOMBE
US74347W6681 - PROSHARES ULTRASHORT BLOOMBE
US74347Y8628 - PROSHARES ULTRASHORT BLOOMBE
US74347W8091 - PROSHRE U/S DJ-AIG CRUDE OIL
US80007V1061 SDRMU SANDRIDGE MISSISSIPPIAN TRUS
US80007T1016 SDTTU SANDRIDGE MISSISSIPPIAN TRUS
US84756N1090 SEP SPECTRA ENERGY PARTNERS LP
US85512C2044 SGH STAR GAS PTNRS,LP SR SB UTS
MHY737601036 - SEANERGY MARTIME HOLDINGS CORP
US8226341019 SHLX SHELL MIDSTREAM PARTNERS LP
US1724641097 SIRE SISECAM RESOURCES LP
US8661424098 SMLP SUMMIT MIDSTREAM PARTNERS LP
US8661421029 - SUMMIT MIDSTREAM PARTNERS LP
US30053M1045 SNMP EVOLVE TRANSITION INFRASTRUC
US79971C2017 - SANCHEZ MIDSTREAM PARTNERS L
US88166A6073 SOYB TEUCRIUM SOYBEAN FUND
US8644821048 SPH SUBURBAN PROPANE PARTNERS LP
US21258A2015 SPKX CONVXTY SHS 1X SPIKES FUTUR
US21258A1025 SPKY CONVXTY SHS DAILY 1.5X SP FU
US85814R1077 SPLP STEEL PARTNERS HOLDINGS LP
US85814R2067 SPLP PRA STEEL PARTNERS HOLDINGS LP
US85814R3057 SPLP PRT STEEL PARTNERS HLDS LP
US79971A1060 - SANCHEZ PRODUCTION PARTNERS
US79971C1027 - SANCHEZ PRODUCTION PARTNERS
MHY737602026 SRG U SEANERGY MARITIME CORP-UNITS
US8493431089 SRLP SPRAGUE RESOURCES LP
US86183Q1004 - STONEMOR PARTNERS LP
US86765K1097 SUN SUNOCO LP
US8692391035 - SUSSER PETROLEUM PARTNERS LP
US92891H1014 SVIX -1X SHORT VIX FUTURES ETF
US74347W1302 SVXY PROSHARES SHORT VIX ST FUTUR
US74347W6277 - PROSHARES SHORT VIX ST FUTUR
US86722Y1010 SXCP SUNCOKE ENERGY PARTNERS LP
US84130C1009 SXEEQ SOUTHCROSS ENERGY PARTNERS L
US86764L1089 - SUNOCO LOGISTICS PARTNERS L.P
US88166A7063 TAGS TEUCRIUM AGRICULTURAL FUND
US14309L2016 TCGP CG 5 7/8 PERP PFD
US87233Q1085 TCP TC PIPELINES LP
US8746971055 TEP TALLGRASS ENERGY PARTNERS LP
US88160T1079 - TESORO LOGISTICS LP
US89376V1008 TLP TRANSMONTAIGNE PARTNERS LP
US8810052014 TNH TERRA NITROGEN COMPANY LP
US97718T1051 TONS WISDOMTREE COAL FUND
US39525T1007 - GREENHAVEN COAL FUND
US8723841024 TPP TEPPCO PARTNERS LP
US1266332055 UAN CVR PARTNERS LP
US1266331065 - CVR PARTNERS LP
US74347W2888 UCD PROSHARES ULTRA BLOOMBERG CO
US74347W1062 - PROSHARES ULTRA BLOOMBERG CO
US9134301046 UCLP UNIVERSAL COMPRESSION PARTNE
US74347Y8883 UCO PROSHARES ULTRA BLOOMBERG CR
US74347W6509 - PROSHARES ULTRA BLOOMBERG CR
US74347W2474 - PROSHARES ULTRA BLOOMBERG CR
US74347W3209 - PROSHARES ULTRA BLOOMBERG CR
US74347W5022 - PROSHARES ULTRA DJ-UBS CRUDE OIL
US55610L1098 UCR MACROSHARES OIL UP TRADEABLE T
US18383R1095 - CLAYMORE MACROSHARES OIL UP
US46141D1046 UDN INVESCO DB US DOLLAR INDEX B
US73936D2062 - POWERSHARES DB US DOL IND BE
US91201T1025 UGA UNITED STATES GAS FUND LP
US74347W6012 UGL PROSHARES ULTRA GOLD
US9117831084 UHN UNITED STATES DIESEL-HEATING
US91204P1075 - UNITED STATES HEATING OIL LP
US74347W8745 ULE PROSHARES ULTRA EURO
US55610R1068 UMM MACROSHARES MAJ MET HOU UP
US9123183009 UNG US NATURAL GAS FUND LP
US9123181029 - US NATURAL GAS FUND LP
US9123182019 - US NATURAL GAS FUND LP
US9123181102 - US NATURAL GAS FUND LP
US91288X1090 UNL UNITED STATES 12 MONTH NATUR
US55610W2044 UOY MACROSHARES USD 100 OIL UP
US55610W1053 - MACROSHARES $100 OIL UP
US90290N1090 USAC USA COMPRESSION PARTNERS LP
US9117182033 USAG UNITED STATES AGRICULTURE IN
US9117171069 USCI UNITED STATES COMMODITY INDE
US9033181036 USDP USD PARTNERS LP
US91288V1035 USL UNITED STATES 12 MONTH OIL
US9117183023 USMI UNITED STATES METALS INDEX F
US91232N2071 USO UNITED STATES OIL FUND LP
US91232N1081 - UNITED STATES OIL FUND LP
US91733T5056 USOD UNITED STATES 3X SHORT OIL F
US91733T4067 - UNITED STATES 3X SHORT OIL F
US91733T3077 USOU UNITED STATES 3X OIL FUND
US9034171036 USSPQ US SHIPPING PARTNERS LP
US46141D2036 UUP INVESCO DB US DOLLAR INDEX B
US73936D1072 - POWERSHARES DB US DOL IND BU
US92891H3093 UVIX 2X LONG VIX FUTURES ETF
US74347Y8396 UVXY PROSHARES ULTRA VIX ST FUTUR
US74347W6350 - PROSHARES ULTRA VIX ST FUTUR
US74347W4116 - PROSHARES ULTRA VIX ST FUTUR
US74347W3464 - PROSHARES ULTRA VIX ST FUTUR
US74347W2540 - PROSHARES ULTRA VIX ST FUTUR
US74347W1633 - PROSHARES ULTRA VIX ST FUTUR
US74347W5444 - PROSHARES ULTRA VIX ST FUTUR
US74347W3795 - PROSHARES ULTRA VIX ST FUTUR
US74347W3126 - PROSHARES ULTRA VIX ST FUTUR
US74347W2391 - PROSHARES ULTRA VIX ST FUTUR
US74347W1484 - PROSHARES ULTRA VIX ST FUTUR
US91914G1085 VEH VALERO GP HOLDINGS LLC
US74347W3381 VIXM PROSHARES VIX MID-TERM FUT
US74347W6848 - PROSHARES VIX MID-TERM FUT
US74347Y8545 VIXY PROSHARES VIX SHORT-TERM FUT
US74347W3613 - PROSHARES VIX SHORT-TERM FUT
US74347W6921 - PROSHARES VIX SHORT-TERM FUT
US74347W2623 - PROSHARES VIX SHORT-TERM FUT
US74347W3613 - PROSHARES VIX SHORT-TERM FUT
US74347W1716 - PROSHARES VIX SHORT-TERM FUT
US91913W1045 VLI VALERO LP
US91914J1025 VLP VALERO ENERGY PARTNERS LP
US92205F3047 VNGBQ VANGUARD NATURAL RESOURCES LLC RED
US92205F2056 VNRAQ VANGUARD NATURAL RESOU
US92205F4037 VNRCQ VANGUARD NATURAL RESOU
US92205F1066 VNRSQ VANGUARD NATURAL RESOURCES
KYG9325C1050 VTDRF VANTAGE DRILLING INTERNATION
US88166A5083 WEAT TEUCRIUM WHEAT FUND
US26800L1008 WEIX DYNAMIC SHORT SHORT
US9586691035 WES WESTERN MIDSTREAM PARTNERS L
US9582541044 - WESTERN GAS PARTNERS LP
US95825R1032 - WESTERN GAS EQUITY PARTNERS
US9604171036 WLKP WESTLAKE CHEMICAL PARTNERS L
US96108P1030 WMLPQ WESTMORELAND RESOURCE PARTNE
US96950K1034 WMZ WILLIAMS PIPELINE PARTNERS L
US95931Q2057 WNRL WESTERN REFINING LOGISTICS L
US92930Y1073 - WP CAREY & CO LLC
US93964X1063 WPG WASHINGTON PG INC UNRESTRICTED SHARES
US98159G1076 WPT WORLD POINT TERMINALS LP
US96949L1052 WPZ WILLIAMS PARTNERS LP
US96950F1049 WPZ.USD WILLIAMS PARTNERS LP
US59140L2097 - METAURUS US EQUITY EX DIVIDE
US22765U1025 - CROSSTEX ENERGY LP
US30242M1062 XXFPL FFP PARTNERS -LP-CL A
US0293161065 XXMUT AMERN RESTAURANT PARTNERS
US0293161065 - AMERICAN RESTAURANT PRTNR LP
US74347W2706 YCL PROSHARES ULTRA YEN
US74347W8661 - PROSHARES ULTRA YEN
US74347W5691 YCS PROSHARES ULTRASHORT YEN
US74347W8588 - PROSHARES ULTRASHORT YEN
US74347Y8479 ZSL PROSHARES ULTRASHORT SILVER
US74347W8331 - PROSHARES ULTRASHORT SILVER
US74347W6434 - PROSHARES ULTRASHORT SILVER
US74347W7267 - PROSHARES ULTRASHORT SILVER
US74347W1146 - PROSHARES ULTRASHORT SILVER
What happened?
According to the new Internal Revenue Code (IRC) Section 1446(f), all sales of Publicly Traded Partnerships (PTP) held by non-US investors will be subject to a 10% withholding tax on January 1, 2023.
Currently, non-corporate foreign investors are taxed at 37% on their US dividend income, and the tax rate for corporate foreign investors is 21%.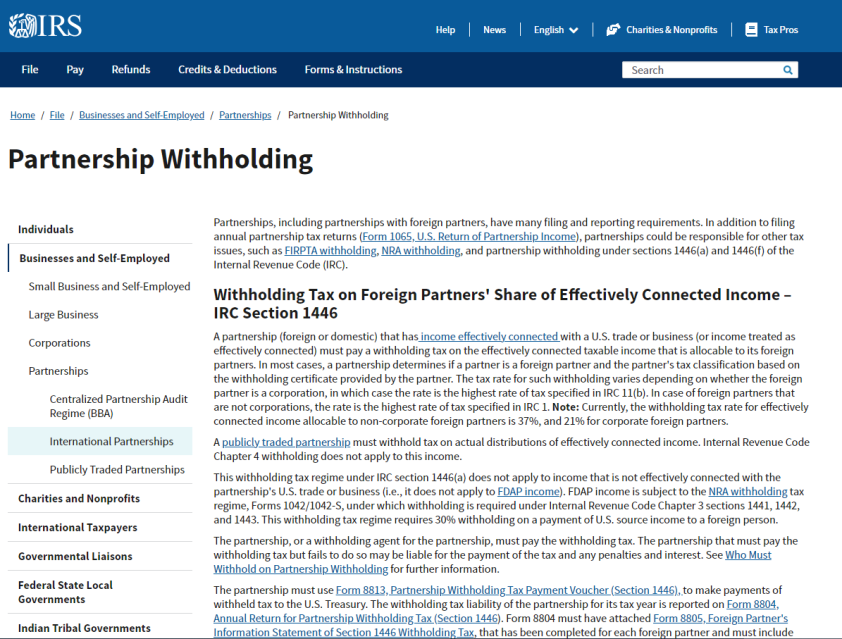 Understanding the PTP update
We highlight four takeaways from the new Section 1446(f):
The new requirement targets non-US investors.
Foreign investors will have to pay a withholding tax when trading PTP stocks or ETFs.
Only proceeds from PTP or related instruments will be affected. IRS does not provide a full list of impacted stocks or ETFs because the instruments can change their structure.
Stocks tracked by a PTP ETF are not subject to the new tax requirement.
What is a PTP?
A Public Traded Partnership (PTP) is a limited partnership managed by two or more general partners and traded regularly on an established exchange.
PTPs combine features of stocks and bonds. A PTP partner (investor) claims part of the organization's ownership and receives quarterly cash distributions.
PTPs have pass-through income tax treatment. This means they do not need to pay taxes. Instead, their partners will be taxed on distributions received.
The partnerships generally engage in businesses related to natural resources and real estate, as the structure was originally designed to offer participants in these industries tax benefits.
How to tell if a stock or ETF is a PTP?
The name of the instrument tells a lot. If the corporate name contains LP or LLC (In the case of an ETF, the name contains Partners or Partnership), the organization is believed to have a PTP structure.

So far, the Internal Revenue Service, or IRS, is yet to offer a full list of US-listed PTP stocks and ETFs which will be affected by the new tax requirement. You can find a list we made for reference on moomoo.
Open the moomoo app and enter "PTP" in the search box to access the list.
PTP stocks and ETFs included are ranked by trading volume or market cap. Popular ETFs, including UVXY and USO, energy firms, and asset management companies such as EPD, KKR, and APO, are all subject to the new requirement.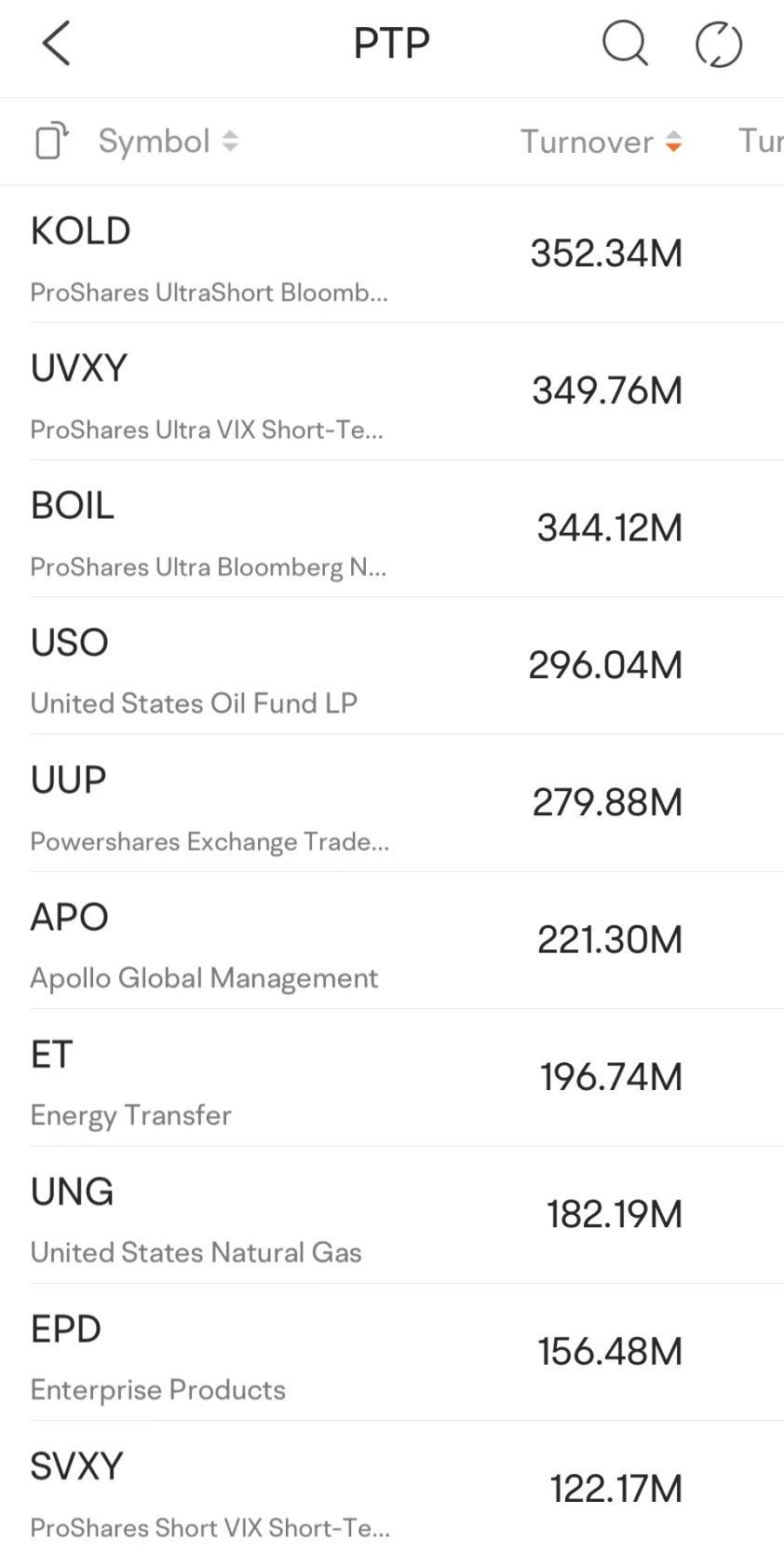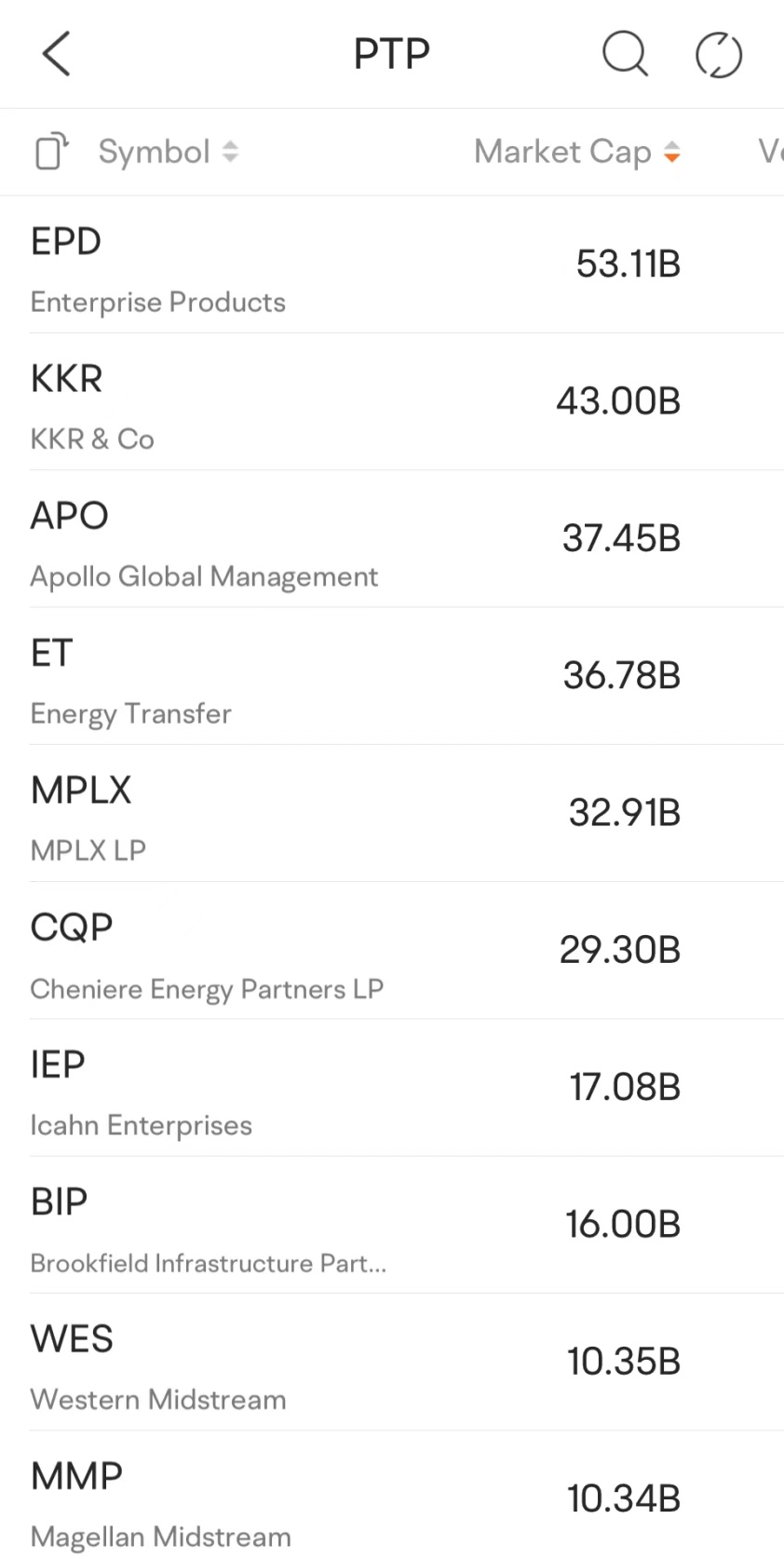 (Source: moomoo, as of 10:00 AM GMT on Dec 14, 2022)
What to do?
Foreign investors holding PTP stocks and ETFs may consider closing their positions to avoid a reduction in returns or even losses.
But not all ETFs, oil and natural gas companies, or asset management firms are PTPs.
For example, some crude oil producers listed below do not have a PTP structure, such as XOP and OIH.
(You can access the list via Markets > US > ETF > Crude Oil Products on moomoo)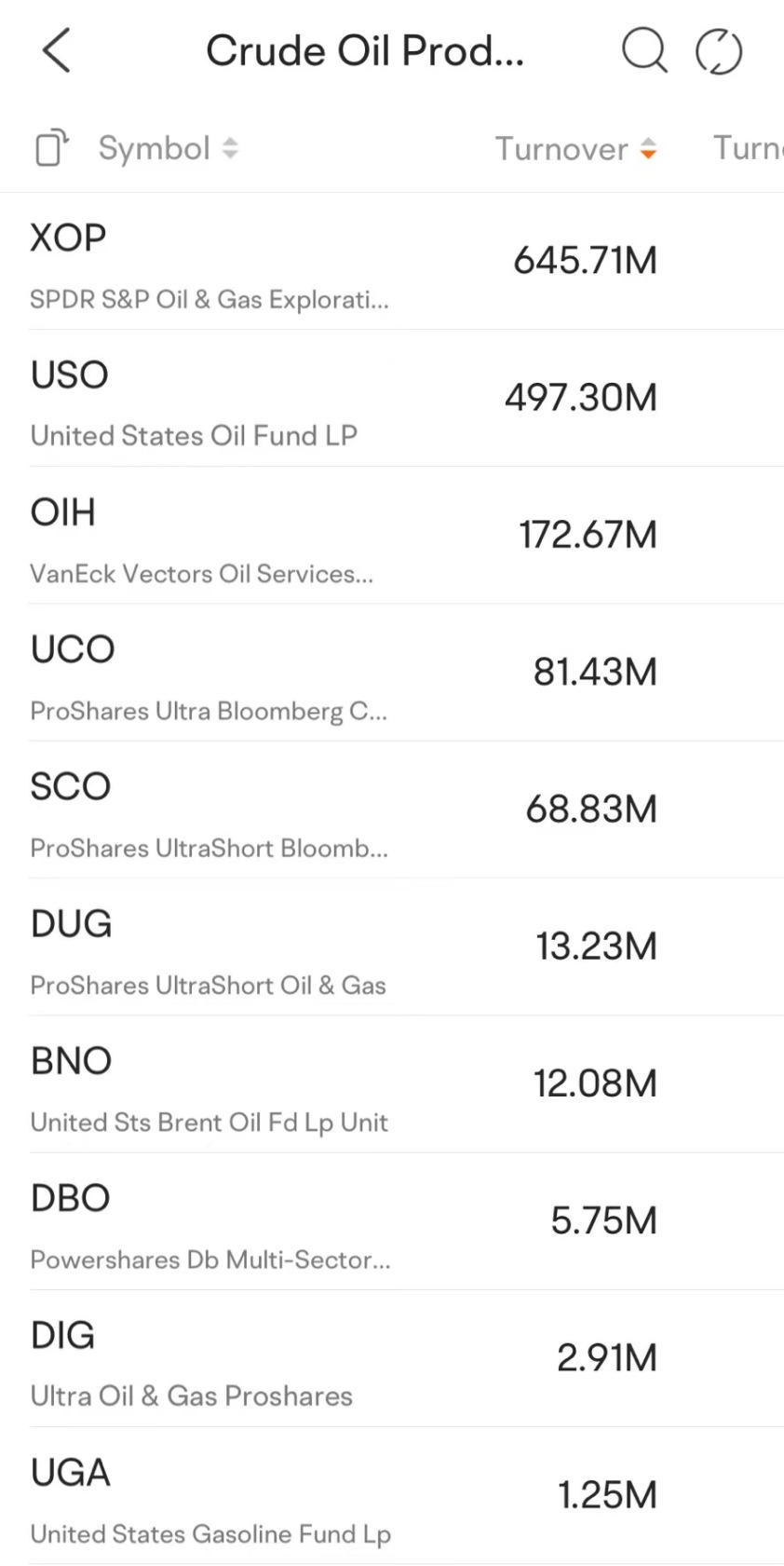 Two alternatives to consider
If you're still interested in the sectors mentioned above, you may wonder how to minimize the impact.
Two possible ways are available.
First, search for companies in the same sector that are not PTPs. (We've demonstrated how with the crude oil producers.)
Let's look at another example. In the energy ETF category below, VDE and IYE can be substitutes for UNG.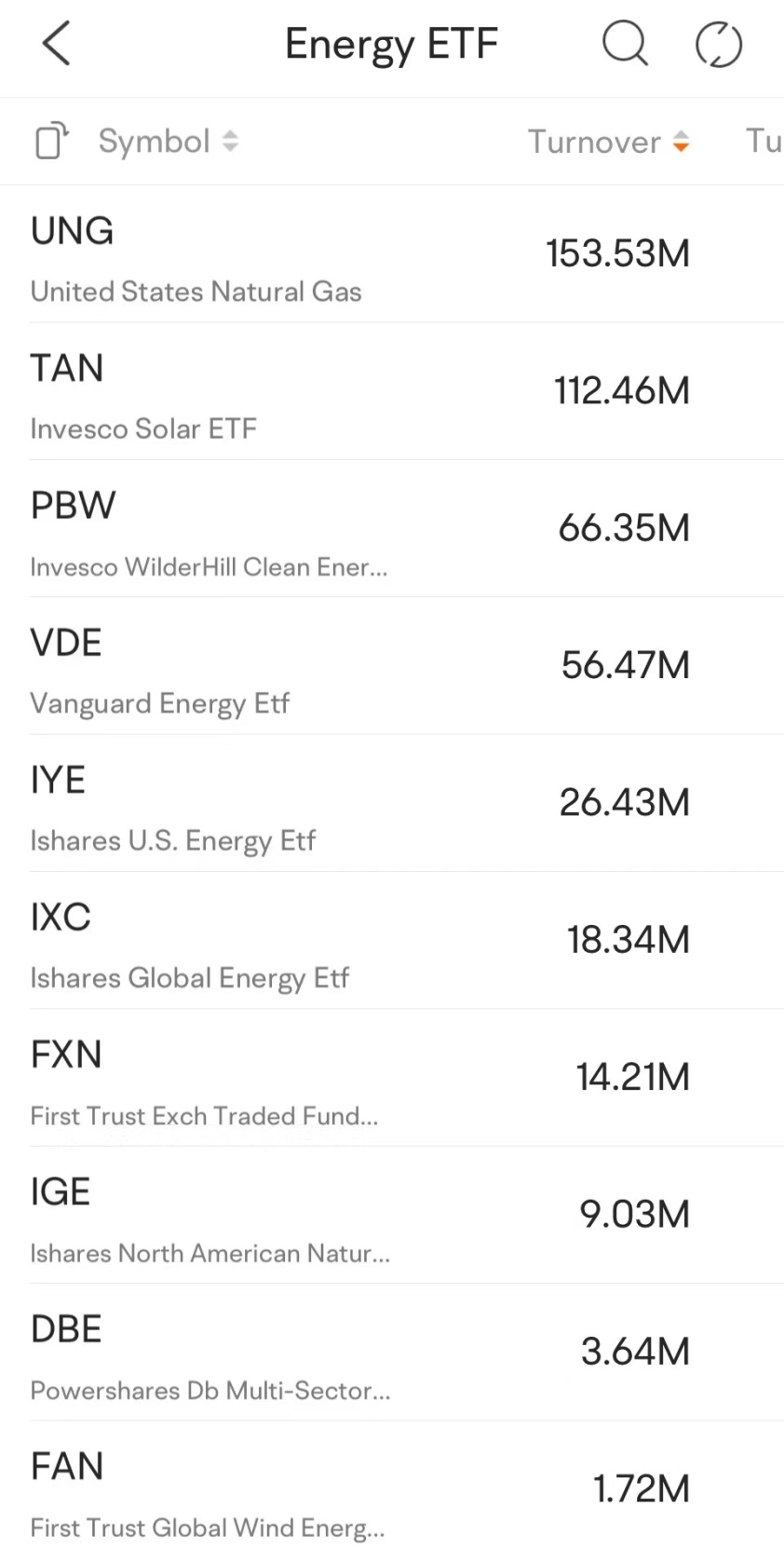 For pipeline companies, ENB can be an alternative option to PAA.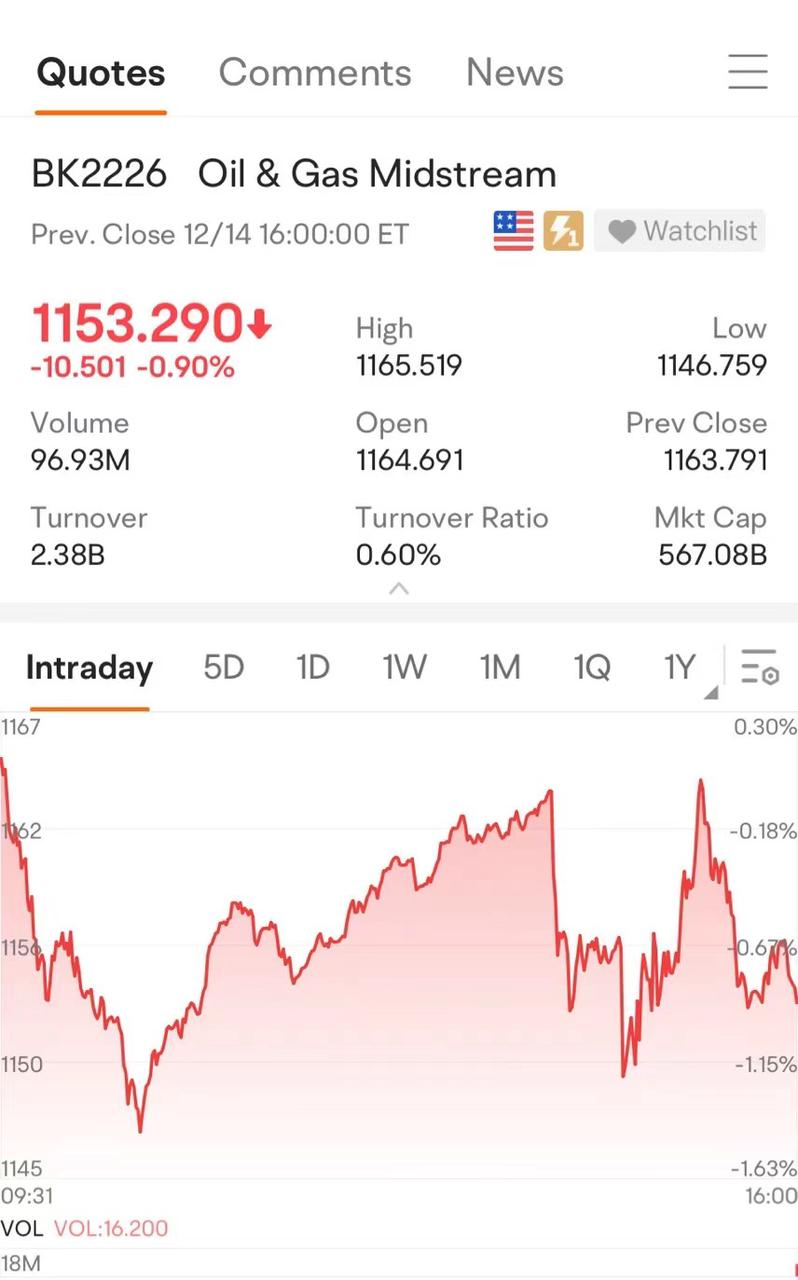 Second, shift your focus to the stocks tracked by an ETF you're watching.
Let's still take USO as an example.
Its latest financial statements list its holdings as follows: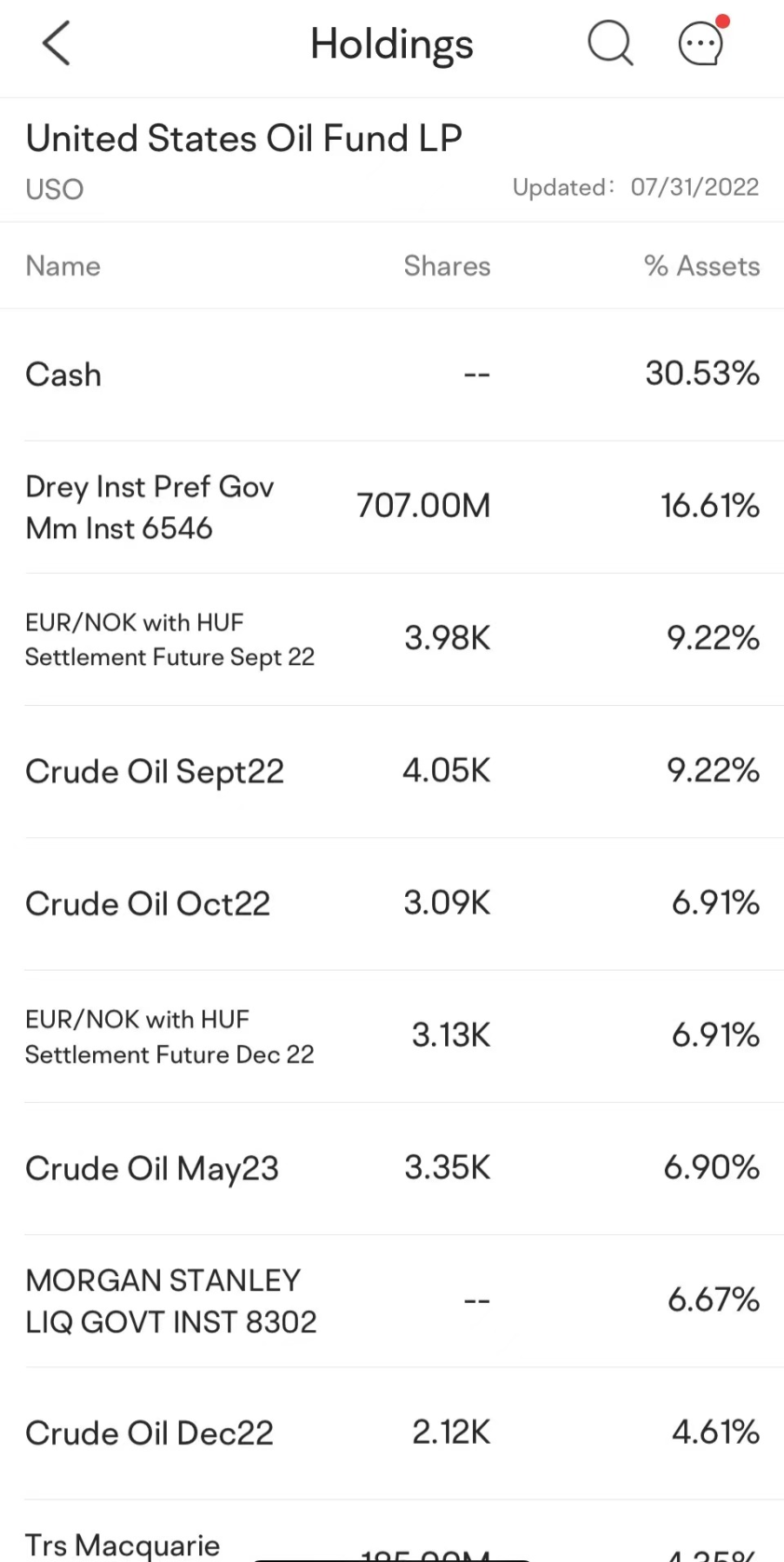 If you're interested in this fund and don't want the new tax requirement to cut your potential returns, consider investing in its major holdings directly.
In addition, the new IRC only applies to PTP stocks, ETFs, and their derivatives. Companies and ETFs within the same industries are not subject to the shift. Their derivatives, including options and futures, should look more attractive given that the underlying assets may be more sought-after.
Summary
You don't have to panic about the IRC shift. After all, it is among the US government's efforts to tighten regulation over tax-favored industries. If you're exposed to the affected instruments, you can follow our instructions mentioned above to limit the impact. As you dive deeper, you may gain new perspectives and spot more investment opportunities.