November saw the $Hang Seng Index(800000.HK)$ record a 27% rise, which was the biggest monthly gain since 1998. This year, from January to October, the index decreased by 37%.
As positive sentiment spreads over the reopening of the economy and the easing of geopolitical tensions, investment banks and international traders are becoming more bullish on Chinese stocks.
Wall Street's chorus of buying China calls is getting louder
Rene Buehlmann, chief executive of Abrdn Asia, stated, "I do think Chinese shares are undervalued, to say the least." Investors ought to return to China. In Asia, the fund manager is in charge of $46.5 billion in assets.
For the first time in nearly two years, Morgan Stanley has increased its assessment of the future performance of Chinese stocks.
Its analysts stated in a research note on Monday that "Multiple positive developments alongside a clear path set towards reopening warrant an upgrade and index target increases for China." They raised China equities to "overweight" from "equal-weight," a position they had held since January 2021. "We are at the beginning of a multi-quarter recovery in earnings revisions and valuations," they said.
The bank advised investors to allocate more money to Chinese stocks trading offshore. According to Morgan Stanley, the MSCI China index, which tracks important Chinese firms and is accessible to international investors, will reach the 70 level by the end of 2023, which represents a 14% increase above the present amount. By the end of the following year, it also increased its objective for Hong Kong's benchmark Hang Seng Index to 21200, a 10% increase over its present value.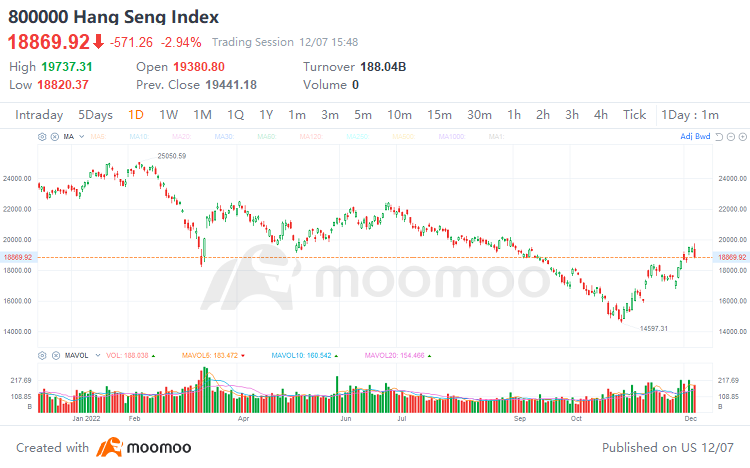 Be cautious: the reopening path may be bumpy
Morgan Stanley did add that "the path will be bumpy" because markets continue to be uneasy due to long-term structural worries about China's economy and the potential for escalating tensions with Washington as political campaigns for the 2024 US presidential election get underway.
Hui Shan, chief China economist at Goldman Sachs, also warned that after three years of embracing zero-Covid, China's path to reopening "will probably not be straightforward". She expects a complete reopening in April 2023.
The bottom line
Investing in Chinese stocks embodies potential risks, as well as opportunities. Investor should know about the opportunities and risks with China concepts stocks before making investment decisions.
Opportunities:
1. China's economy is growing, and the country has seen a rise in high-quality companies.
2. More capital is being injected, which will result in greater liquidity in China's concepts stocks.
3. Following a deep correction, the price of China's concepts stocks is relatively low.
Risks:
1. Systemic policy risks
2. Industry policy risks
Lastly, although there are a lot of interesting options in Chinese stocks, investors may simply elect to dollar-cost average their investment into mega-cap or market-weighted ETFs like the $KraneShares CSI China Internet ETF(KWEB.US)$.